AGORIA (Belgium)
Production Technology & Mechatronics
Dr. Jean-Marc Timmermans
A. Reyerslaan 80
Diamant Building
1030 Brussels / Belgium
Phone: (+32 2) 7 06 80 03
Fax: (+32) 4 75 80 88 99
Email: jean-marc.timmermans@agoria.be
Website: www.agoria.be
Board Member:
Raf Vermeylen, SEW-EURODRIVE, Belgium
ARTEMA (France)
Cyrille Néret-Minet
39/41, rue Louis-Blanc
92038 Paris la Défense Cedex / France
Phone: (+33 1) 47 17 63 69
Fax: (+33 1) 47 17 63 70
E-mail: info@artema-france.org
Website: www.artema-france.org
Board Member:
Frederic Bellot, CMD
ASSIOT/FEDERTEC (Italy)
ASSIOT - Power and Motion Transmission Systems
Italian Association of Gears and Transmission Elements Manufacturers
Marco Ferrara
ASSIOT
Viale Fulvio Testi, 128
20092 Cinisello Balsamo (MI)
Italy
E-mail: federtec(at)federtec.it
Website: https://federtec.it/assiot/
Board Member:
Ing. Mauro Rizzolo, Schaeffler Italia Srl and President of Assiot
BGA (UK)
British Gear Association
University of Newcastle, Unit B1 & B2
Wincomblee Road
Walker
Newcastle Upon Tyne NE6 3QS, UK / Great Britain
Phone: (+44 191) 208 6160
E-mail: admin@bga.org.uk
Website: bga.org.uk
Chairman/President:
Mr. Graham Penning, Contact Gearing Ltd
SWISSMEM (Switzerland)
Michael Koller
Pfingstweidstr. 102
8037 Zurich / Switzerland
Phone: (+41 44) 384 42 37
E-mail: m.koller(at)swissmem.ch
Website: swissmem.ch
Board Member:
André Thuswaldner, NOVAGEAR AG, EUROTRANS Vice President
MIB (Turkey)
Association of Turkish Machine Manufacturers
Zulfikar Kilic
Sogutozu Mh. 2176. Cd. Platin Tower No:7 Kat:14 D:52 Cankaya
Ankara TURKIYE
E-mail: zkilic(at)mib.org.tr
Website: www.mib.org.tr
Board Member:
Salim Haffar, I-Mak Gearboxes and Drives, EUROTRANS President
VDMA Antriebstechnik (Germany)
Dirk Decker
Lyoner Straße 18
60528 Frankfurt am Main / Germany
Phone: (+49 69) 66 03-16 85
Fax: (+49 69) 66 03-26 85
E-mail: dirk.decker(at)vdma.org
Website: vdma.orgy
Board Member:
Fabian Maurer, Managing Director, RINGSPANN GmbH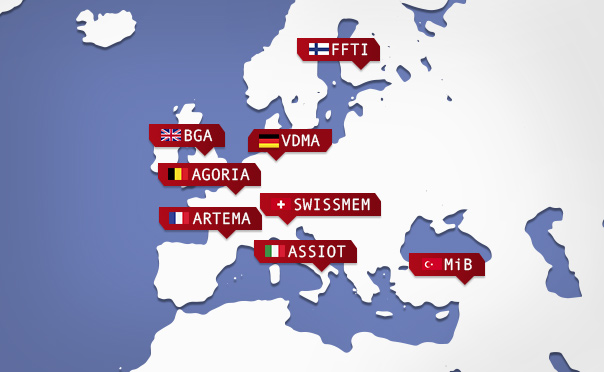 ERROR: Content Element with uid "854" and type "gridelements_pi1" has no rendering definition!
To become a member of our European Committee you have to have the status of an European Power Transmission Engineering Association.
If you do not have an association in your country, the EUROTRANS Board can consider an associate membership.
For further information you can contact your National Power Transmission Association or the General Secretariat of EUROTRANS:
Dirk Decker
Lyoner Strasse 18
60528 Frankfurt a.M. / Germany
Tel.: (+49 69) 66 03-16 85
Fax: (+49 69) 66 03-26 85
E-mail: dirk.decker@vdma.org