Increasing sustainability, ecological and geopolitical demands create new challenges for tribologists and lubrication experts.
Such non-technical functionalities in addition to the well-known premium attributes of lubricants and tribological systems generate new technological requirements. Promoting appropriate innovative technologies and closing knowledge gaps are the intentions of the 1st International Conference on Tribology and Sustainable Lubrication nextlub.
Date: April 18 - 19, 2023
Location: Maritim Hotel, Düsseldorf, Germany

Topics:
Environmentally acceptable lubricants
Renewable and recycled raw materials
Re-refined base oils
Bio-lubricants
Digital twin of lubricants
Inline & offline condition monitoring
End-of-life treatment
Life cycle analysis (LCA)
Long-life / extended drains
Energy efficiency – measure, scale, simulation
Superlubricity, minimized friction
Materials & coatings for improved lubrication
Material efficiency & resource conservation through wear protection
Maintenance, repair and recycling
Lubricants in electric drivetrains
Thermal properties of lubricating fluids
Electrical and electromagnetic properties of fluids
The submission deadline was extended until October 14, 2022. Please submit your abstract via the following website: www.nextlub.com!
We look forward to receiving your submission.
Kind regards
Michelle Broller

eventmanagerin
seminars & conferences

Tel.: +49-69-6603-1189
michelle.broller(at)fva-service.de
FVA GmbH
CEOs: Hartmut Rauen, Norbert Haefke
Commercial Register No. 87090 | Registered Office: Lyoner Str. 18, 60528 Frankfurt, Germany
Post Address: Post Office Box 71 08 64, 60498 Frankfurt, Germany
Essential Gear Training: Gear Stress Analysis in Newcastle from 21-22 April 2020
This seminar will give you the opportunity to understand and explore the stress analysis procedures published in ISO 6336:2006 and discuss ideas and implications with other members of the industry. Futher, you will get introduced to strategies for maximizing gear performance, increasing power density and minimizing manufacturing costs and risk.
Register for this course online by clicking here or download a booking form here to book offline.
Essential Gear Training: Gear Wear and Failure Recognition on 3 March 2020 at Newcastle University
The seminar gives delegates an insight into the appearance and underlying causes of gear failure modes. No prior gear knowledge is required. It provides gear manufacturers and users with the necessary skills to examine, assess and recognise common gear failure modes. The seminar content is applicable to gear designers, gear service personnel, operators and users of valuable equipment, inspection and certification bodies who need to confidently examine gears and gearboxes and those new to the gear industry.
Register for this course online by clicking here or download a booking form hereto book offline.
BGA Gear Training: An introduction to Gear Design & Geometry on 26 February 2020 at Newcastle University
Gear geometry is thought to be complex and often considered a 'black art'. This seminar will dispel this myth and provide delegates with a basic knowledge of spur and helical gear geometry and how gears work. No prior gear knowledge is required.
The Seminar will cover:
• How involute gears work
• An introduction to the involute gear geometry standard ISO 21771, BGA Code of Practice 07 and gear terms and symbols
• The basic rack, cutting tools and basic gear sums relating to spur and helical gears o Gear pairs, centre distance, working pressure angles, tooth thickness and backlash
• Non-standard geometry, contact ratios and start of active profile calculations
• Plenty of examples to work through – please make sure you bring a basic scientific calculator!
Key skills and knowledge:
At the end of the seminar you will understand how gears work, be competent with basic calculations relating to gear geometry, understand the basic terms and symbols and have a greater understanding of what is happening when you use gear software packages. Design, manufacture and inspection processes make more sense when you understand gear geometry.
CPD
This course is officially recognised as complying with universally accepted principles of Continual Professional Development (CPD) and have been structured to meet the criteria of personal development plans.
CPD certification means that the content and structure of the courses have been independently assessed and approved for multi-disciplinary and industry-wide continuing personal and professional development purposes.
For more information, please click here
For downloading the registration form, please click here
BGA GEAR FOUNDATION DAY on 5 February 2020 at the BGA Training Centre in Sunderland, UK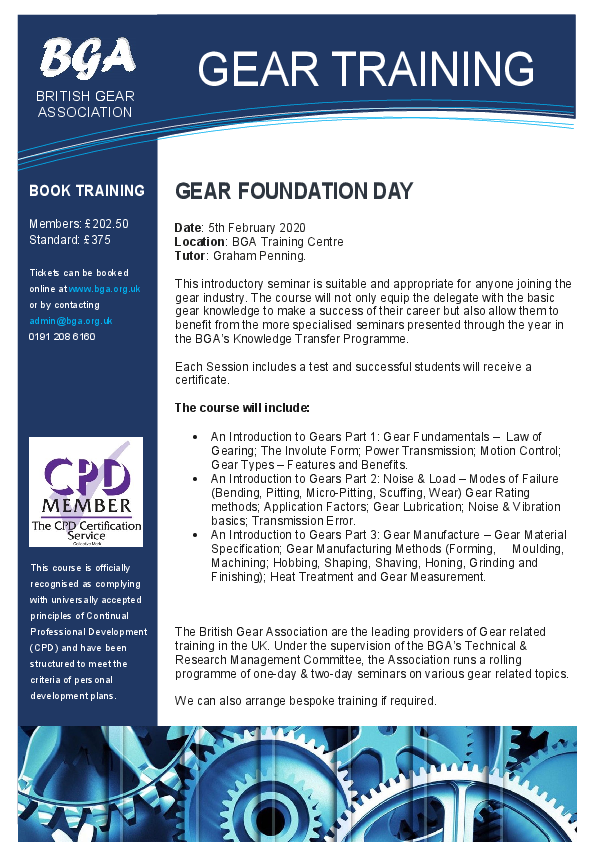 BGA TECHNICAL AWARENESS SEMINAR on 14th November 2019 at Renishaw PLC in Gloucestershire
The British Gear Association is the UK Centre of Technical Excellence for gear design, manufacture & application technologies. The Annual Technical Awareness Event is the leading conference for the Gear Industry in the UK and this long running seminar is considered an essential event for manufacturers, distributors and academics involved in the UK Gears Industry.
This year this prestigious event takes place at Renishaw PLC with an onsite tour of the manufacturing facility for Gears 2019 delegates.
For more information on the program, registration, accomodation, etc. please read here the full press release.
Educational activities of the member associations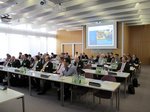 Trainings and seminars about technical and management issues are organized by EUROTRANS' member associations
ASSIOT, Italian Association of Gears and Transmission Elements Manufacturers: Training Courses
BGA, British Gear Association: BGA Trainings/Seminars
VDMA, German Power Transmission Association: Research Association for Drive Technology FVA
For further information, please contact the member associations directly. Most of these activities are in the national language.
Well-educated and well-trained employees are the basis for the successful future of the power transmission industry. For EUROTRANS and its member associations, training people in key technologies of our industry is of the utmost importance.