Our Mission
We support our industries and their associations to be today and in the future one of the most sucessful and innovative supplier industries in the world. We are the European information network for the Power Transmission Industry.
2019: 50th Anniversary EUROTRANS - Come celebrate with us!
We invite our partners and friends of EUROTRANS to celebrate with us the 50th Anniversary of EUROTRANS along with the 5th International Drive Technology Meeting taking place in Hanover on 30-31 March 2019. Be part of the global network.
The REGISTRATION is now open! The full program can be found here.
SAVE THE DATE - 50th Anniversary of EUROTRANS - Be part of the global network!
Saturday, 30th March 2019: Gala Dinner 50th Anniversary of EUROTRANS
Apostelhalle (next to Pelikan Hotel)
Sunday, 31st March 2019: 5th International Drive Technology Meeting
Pelikan Hotel, Hannover
10:00 a.m. – 4 p.m.
More details will follow soon by invitation.

Improve your knowledge on Gears Production Technology and meet your peers during this 5-days course!
From 25th February to 1st March, the module on 'Production' of the Eurotrans Gear Training program will take place in Ghent, Belgium.
This training is a must for everyone who is active in the gears sector in Europe. The entire subject matter of the training course is extensively illustrated with examples and best practices.
The program and the registration form can be found & downloaded from this link.
New Member of EUROTRANS – MIB from Turkey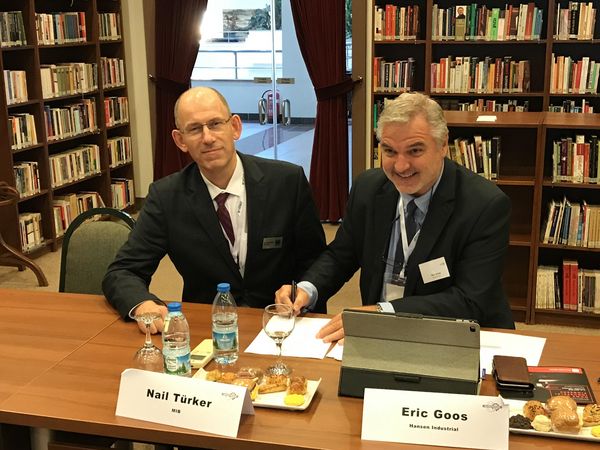 At the EUROTRANS Board Meeting in Istanbul on 2nd October 2018 by kind invitation of the ASSOCIATION OF TURKISH MACHINE MANUFACTURERS (MIB), Nail Türker (General secretary of MIB) and Eric Goos (president of EUROTRANS) sign the membership contract with EUROTRANS during the machinetool show MATEK.
Both emphasized the importance of deepening the networking activities between the Turkish Industry and EUROTRANS for a successful future.
Press Release European Drive Technology 2018
• 4% growth for 2018 in Europe
• Turkish Association MIB new member of EUROTRANS
• Eric Goos from Hansen Industrial Transmissions N.V. re-elected as EUROTRANS President
Please find the full text here
EUROTRANS Gears Training: module on "Geometry and Design"
SAVE THE DATE: 15-19 October 2018 in Munich
If you are interested to participate at this training program, please feel free to send your contact details to comm-training(at)agoria.be
More information can be found here
This specialized training course is dedicated for all professionals in the sector of gears and transmissions.
Discover our program and subscribe now!
PROGRAM & REGISTRATION
More details on the program and the registration can be found & downloaded from this link.
EUROTRANS goes social network!
EUROTRANS is now on LinkedIn, the world's largest professional network. Follow us and keep up to date with current events and news!
https://www.linkedin.com/company/euro-trans.org/
FLYER European Drive Technology Conference 2018 now available!
The flyer for the European Drive Technology Conference 2018 is now available and can be downloaded here.
REGISTRATION is now open! European Drive Technology Conference in Antwerp 2018
The next European Drive Technology Conference along with the EUROTRANS Annual Meeting will take place in Antwerp by kind invitation of AGORIA on 21-22 June 2018. The registration is now open and can be accessed via the website: www.edtc2018.be
EUROTRANS Gears Training in Newcastle on June 11-15, 2018
Interested to improve your knowledge on quality and failure of gears? Save the date and preregister now for the upcoming EUROTRANS Gears Training in Newcastle University from 11 till 15 June 2018!
For more info, click here:
Industry Confidence in Europe
Edegem, 4th January 2018: The Grand opening of the Global R&D Centre for gearbox of Sumitomo Drive Technologies (SHI) in Edegem/Belgium on 4th January 2018 marks the start of the 95 years celebration of Hansen Industrial Transmission N.V.
Shaun Dean (Vice-President Sumitomo Drive Technologies) and the management team from Japan celebrated the opening of the new Global R&D Centre. The opening is a clear signal for the continued commitment and trust of SHI in Europe as a globally attractive production place.
Interview Eric Goos "Driven by Digitalization"
Please find here the interview of Eric Goos published in the magazine "InMotion" in the October 2017 issue