News
REGISTRATION is still open! Eurotrans gears training Geometry & Design, October 21-25/10/2019
Improve your knowledge on Gears Geometry and Design Technology and meet your peers during this 5-days course! EUROTRANS members enjoy a reduced registration fee. There are still free places available.
From 21st to 25th October, the module on 'Geometry and Design' of the Eurotrans Gear Training program will take place in Munich in close collaboration with FVA GmbH and the University of Munich FZG, Germany.

This training is a must for everyone who is active in the gears sector in Europe. The entire subject matter of the training course is extensively illustrated with examples and best practices.

Please note that special prices apply for Agoria members and for members of the other associations of Eurotrans.

Venue of the training
This course will be held at the FVA GmbH, Business Campus Munich, Parkring 6, Garching bei Munchen, Germany - access map

Accommodation
Room reservations should be made directly with the hotel. Accommodation is not included in the price of the training.
Hotel Hoyacker Hof
Freisinger Landstrasse 9a, 85748 Garching bei München
Tel: +49 (0) 89 32 69 900
Email: info@hoyackerhof.de
Block booking code: Eurotrans
Price per room € 82 (breakfast included)
Social program
The training package includes evening diners and social activities. The social program can be subject to changes.

Registration
The program and the registration form can be found & downloaded from this link.
Please send a completed registration form to comm-training@agoria.be

Contact Agoria
Jean-Marc Timmermans (Business Group Leader, Manufacturing Industries)
Mobile: +32 477 89 49 83 - jean-marc.timmermans@agoria.be

Marleen Poelmans (Agoria Communication-Training Team)
Mobile: +32 495 50 11 84 - comm-training@agoria.be
50th Anniversary of EUROTRANS – 50 years of global networking
EUROTRANS – the European Committee of Associations of Manufacturers of Gears and Transmission Parts – celebrated its 50th Anniversary on the occasion of the 5th International Drive Technology Meeting in Hanover, Germany, on Saturday, 30th March 2019.
The power transmission industry is one of the oldest and most innovative branches in the EUROPEAN Mechanical Engineering Industry. In 1968, several companies and associations, mostly small and family owned companies, created a EUROPEAN networking platform in Paris – nowadays known as EUROTRANS.
The 50th Anniversary Celebration was followed by the 5th International Drive Technology Meeting on 31th March with interesting speeches from industry experts covering the topics of global economy, European trade as well as AI and automated driving. Both events took place before the IAMD Hanover, 1-5 April 2019.







New Member of EUROTRANS – MIB from Turkey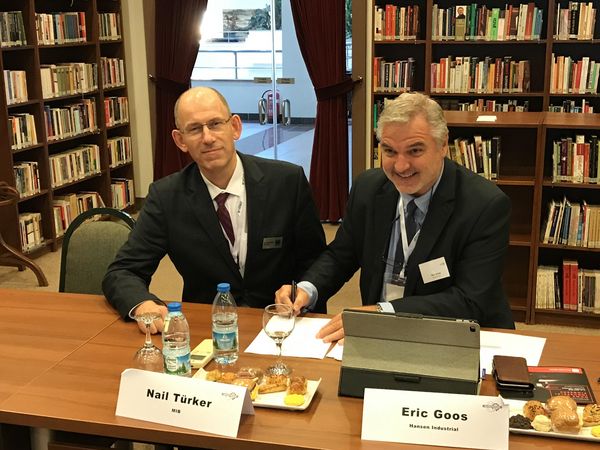 At the EUROTRANS Board Meeting in Istanbul on 2nd October 2018 by kind invitation of the ASSOCIATION OF TURKISH MACHINE MANUFACTURERS (MIB), Nail Türker (General secretary of MIB) and Eric Goos (president of EUROTRANS) sign the membership contract with EUROTRANS during the machinetool show MATEK.
Both emphasized the importance of deepening the networking activities between the Turkish Industry and EUROTRANS for a successful future.
Press Release European Drive Technology 2018
• 4% growth for 2018 in Europe
• Turkish Association MIB new member of EUROTRANS
• Eric Goos from Hansen Industrial Transmissions N.V. re-elected as EUROTRANS President
Please find the full text here
EUROTRANS Gears Training: module on "Geometry and Design"
SAVE THE DATE: 15-19 October 2018 in Munich
If you are interested to participate at this training program, please feel free to send your contact details to comm-training(at)agoria.be
More information can be found here
EUROTRANS goes social network!
EUROTRANS is now on LinkedIn, the world's largest professional network. Follow us and keep up to date with current events and news!
https://www.linkedin.com/company/euro-trans.org/
FLYER European Drive Technology Conference 2018 now available!
The flyer for the European Drive Technology Conference 2018 is now available and can be downloaded here.
REGISTRATION is now open! European Drive Technology Conference in Antwerp 2018
The next European Drive Technology Conference along with the EUROTRANS Annual Meeting will take place in Antwerp by kind invitation of AGORIA on 21-22 June 2018. The registration is now open and can be accessed via the website: www.edtc2018.be
EUROTRANS Gears Training in Newcastle on June 11-15, 2018
Interested to improve your knowledge on quality and failure of gears? Save the date and preregister now for the upcoming EUROTRANS Gears Training in Newcastle University from 11 till 15 June 2018!
For more info, click here:
Industry Confidence in Europe
Edegem, 4th January 2018: The Grand opening of the Global R&D Centre for gearbox of Sumitomo Drive Technologies (SHI) in Edegem/Belgium on 4th January 2018 marks the start of the 95 years celebration of Hansen Industrial Transmission N.V.
Shaun Dean (Vice-President Sumitomo Drive Technologies) and the management team from Japan celebrated the opening of the new Global R&D Centre. The opening is a clear signal for the continued commitment and trust of SHI in Europe as a globally attractive production place.
Interview Eric Goos "Driven by Digitalization"
Please find here the interview of Eric Goos published in the magazine "InMotion" in the October 2017 issue